"From Under the Brim"
The River Centre Gallery - April 1-30
5679 S. Main St.
Sylvania, Ohio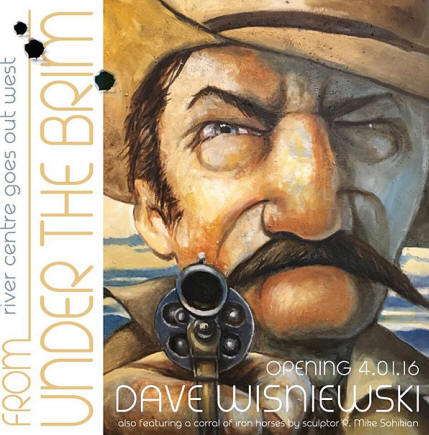 Toledo.com
May 2015

Creative Native interview with Dave Wisniewski
The Toledo Blade

March 2013

Read article by Tahree Lane
"Gumption and Gunpowder"
October 2011
Exhibition of my work at the Sisson Gallery
Henry Ford Community College
Mackenzie Fine Arts Center

Toledo Alumni Magazine, Spring 2011
Toledo Alumni Magazine Video interview

American Gallery, December 2010
Video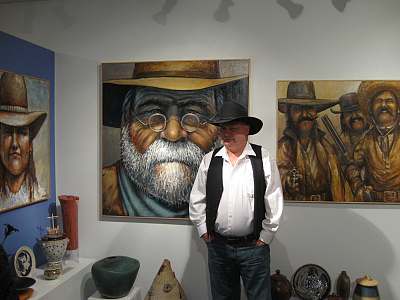 Space 237, Spring 2010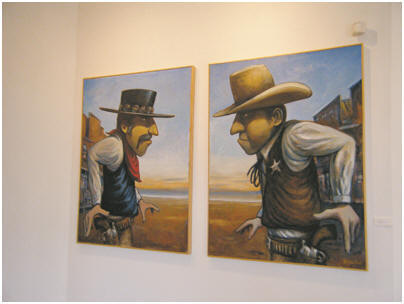 "The Showdown"

Space 237 was packed to the rafters, and exhibited the brilliant works of artist Dave Wisniewski whose big, bold paintings of cowboys and old west "saloon types" feature squinting eyes that follow you around the room. Men in particular love his art and imagine it hanging in their "man caves" or offices and several women were commenting about what a perfect gift the art makes for a home theater. The artist's work is featured across the country and you can also catch him as the featured artist at The Serafino Gallery in Cleveland, Ohio's "Little Italy" if you happen to be going there any time soon. Along with Wisniewski's art, Space 237 also featured the sculpture of Travis Sanderson, works by Melanie Harris and amazing creations by many other artists. Space 237's spring exhibition, "Yesterday & Today" is an excellent and complicated show, from the first floor to the fourth. This review focuses on the work that opens the show. The first floor features art filtered through corporal sensations and organic sensibilities. Dave Wisniewski's two-panel "The Showdown" greets visitors as they enter the exhibition space. His large portraits of cowboys are just part of his unique sensibility. Beyond its Wild West motifs, Wisniewski's paintings navigate challenging terrain. The painter (who is legally blind) creates oversized and charmingly cartoonish images partly in response to his compromised vision. The ambiguity of a diminished sense also show up in his portraits' clouded and shadowy eyes. At what are they looking? Beyond the dozen or so excellent portraits on display—many textured with additives, like birdseed, sawdust and sand—Wisniewski presents a landscape of a big sky Main Street that rewards a close viewing.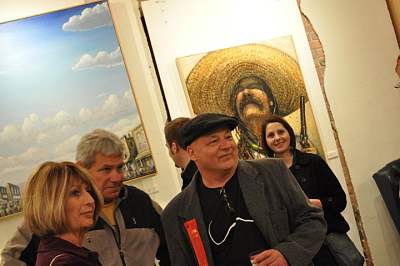 Marti, Rodney and me.


Sur St. Clair Gallery, September 2009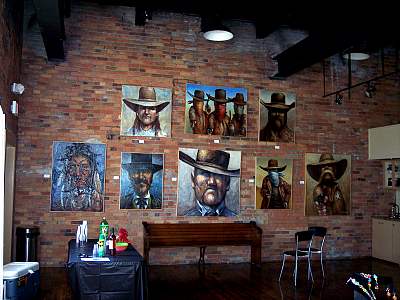 Agora Gallery, Chelsea, New York, August 2009

2009 Chelsea International Fine Arts Competition, NY

Agora Photos

Agora Blog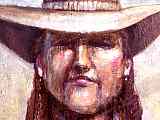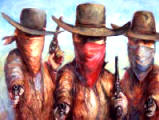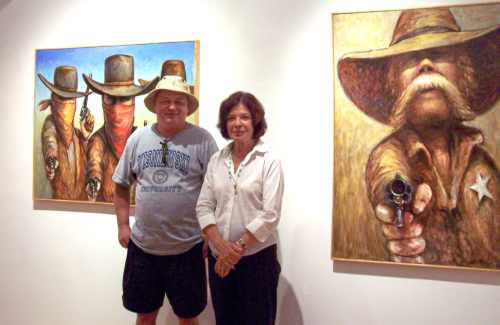 Angela Di Bello, Agora Gallery Director, and Me.

"Dave Wisniewski's portraits of Western Americana display all the grit and savvy of lawmen and other characters from those bygone days. Rustlers, hustlers, and sheriffs stare deadpan, eyes as sharp as a hawk peering from the shadows of wide brim hats. Each portrait shows Wisniewski exploring the personalities who inhabited this rough-and-tumble time period. His style is both realistic and whimsical, highly textured and created in acrylic and oils. Dave Wisniewski paints a devilishly fun series of works, one that explores and celebrates this rich slice of American history" - Agora Gallery, 2009


Adrian College,
March 2009
Heritage Room in Shipman Library March 2009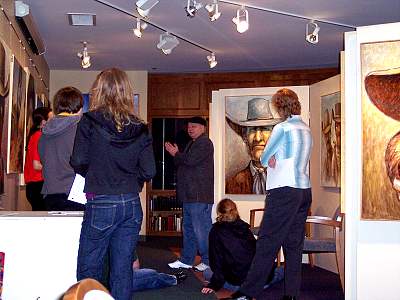 Lecturing the Art Students


American Gallery December 2008
Find your Inner Cowboy Exhibition
November 2008, held over thru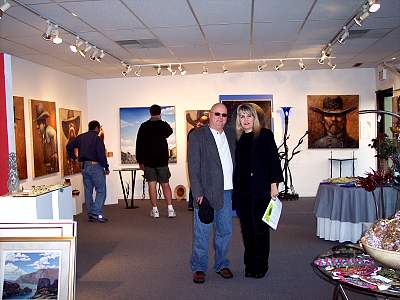 Me and my wife, Sally.



WTOL Interview with Chrys Peterson, November 08
Watch the Interview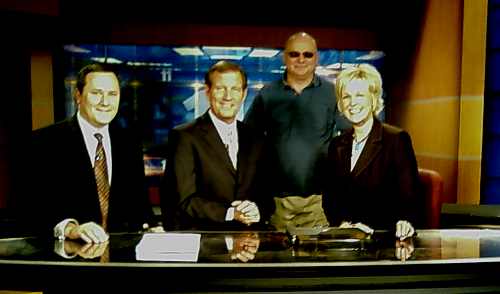 Robert, Jerry, Me and Chrys
Read I nterview


Sur St. Clair Gallery, August 2008
inToledo Magazine Exhibition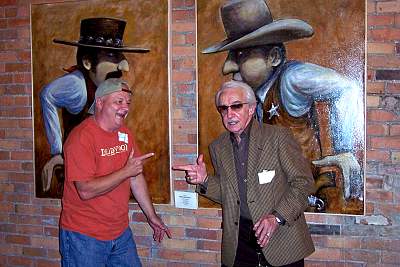 Me and Johnny Ginger goofing off.


inToledo Magazine Interview, June 08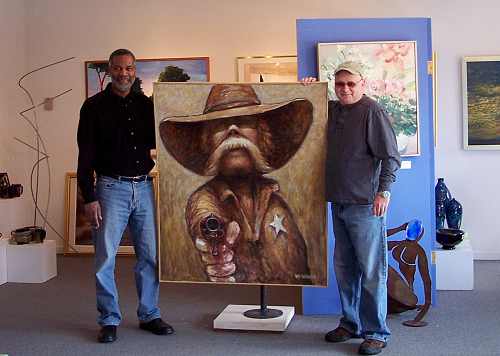 Dennis Hicks, "That's Fer'nough", Me
Read Interview


Artomatic, Mar 2006


Center for the Visual Arts
Student Art League juried Exhibition 1996
The Recycled Statement Exhibition 1995
Toledo Blade
Click on articles

HOME